Jesse Mendoza, Sarasota Herald-Tribune
May 23, 2022
Manatee County commissioners approved several major development projects in the Parrish area that clear the path for the construction of a new hospital and a village center.
The projects will include a mixture of residential housing, commercial and office space, and an assisted living facility at North River Ranch, which is under development by Neal Land & Neighborhoods in Parrish.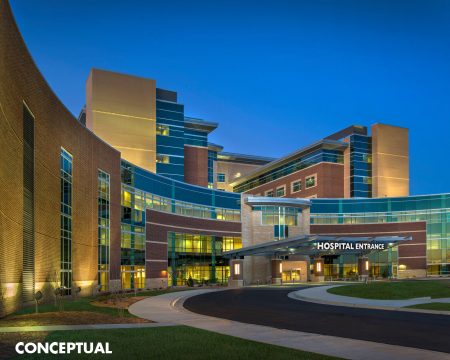 A conceptual rendering of a 150-bed hospital that was approved for development at Thursday's land use meeting. Design is not final.
New hospital, village center coming to North River Ranch in Parrish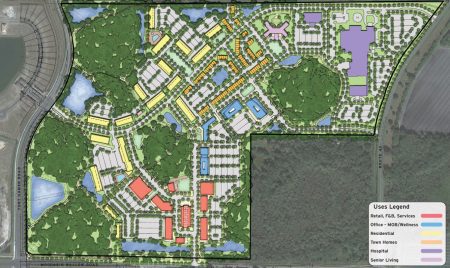 A conceptual plan for a Village Center slated to be built at the Villages of Amazon South, which is a part of North River Ranch community in Parrish. It includes plans for a mix of residential space, multifamily housing, retail and office space, as well as a 150-bed hospital and a senior living facility.
Commissioners approved a slew of changes to the Villages of Amazon South, which is a 1,032-acre project part of John Neal's massive North River Ranch development in Parrish.
Two phases of the project are residential lots, but Neal Land and Neighborhoods also envision a walkable village center, said Katie LaBarr, a project planner with Stantec, representing the company.
Commissioners unanimously approved zoning changes on a 50-acre parcel from residential to mixed-use to allow construction of a six-story 150-bed hospital and 125,000 square feet of medical office space. The parcel is located about a half-mile north of Moccasin Wallow Road on US 301.
About Neal Land & Neighborhoods
Neal Land & Neighborhoods is a Manatee and Sarasota, Florida-based community and master land planning and development organization led by John A. Neal. The company incorporates smart master-planning and public infrastructure solutions to create the next level of elite community planning in Southwest Florida. By working with carefully selected new home builders, Neal Land & Neighborhoods aims to establish thriving, sustainable, livable, and ecologically sensitive communities throughout Manatee, Sarasota, and Hillsborough counties. Neal Land & Neighborhoods currently owns or controls several thousand acres of land entitled for more than 9,000 future residential homes and the supporting mixed-use commercial and retail. For additional information, visit www.nealland.com.