PARRISH, Fla. – April 19, 2022 – Neal Land & Neighborhoods, a Manatee and Sarasota-based master-planned community developer, has announced two new model homes by Pulte Homes at North River Ranch – its flagship master-planned community in Parrish. The new model homes, Mystique and Trailside, are built by Pulte Homes for the Brightwood neighborhood.
"Demand for new housing in the Southwest Florida region remains strong and Pulte Homes is able to provide a collection of versatile and functional floorplans at North River Ranch to meet the needs of a varied group of homebuyers in today's market," said John A. Neal, President of Neal Land & Neighborhoods. "Overall, these homebuyers are eager for flexible floor plans, outdoor amenities and a thriving community."
The Mystique model is a one-story home featuring a beautiful open concept gathering room, a covered lanai, a laundry room, and a two-car garage. Offering the flexibility to meet any lifestyle, home configurations include two to five bedrooms with two to four bathrooms. The two-bedroom, two-bathroom home includes 1,889 square feet of living space and a flex room.
The Trailside model is a two-story home featuring a welcoming foyer, an open kitchen with a large center island, and an owner's suite with an en suite bathroom and walk-in closet. The home includes four additional bedrooms and two bathrooms. The Trailside model offers a sprawling 2,615 square feet and features a spacious covered lanai.
Pulte Homes offers seven floorplans, with starting prices ranging from $384,990 – $498,990. To view the Pulte Homes model homes and more, visit here.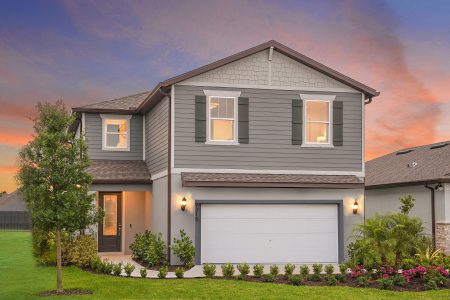 "With recent homebuyer trends that look for more flexible living spaces and design options to further personalize the home, our new Pulte models offer just what they are looking for," said Jacque Gendron, Division Director of Sales, West Florida Division for Pulte Homes. "Since grand opening, the demand continues to grow for those that want to love where they live, inside and out."
"It's great timing to bring this selection of new models to North River Ranch, as we expect to see even greater foot traffic in the community during a re-energized summer market," said Neal.
Pulte Homes, one of the nation's largest home builders, began home sales at North River Ranch in October of 2021. Since then, they've sold nearly 50 percent of their available lots and have reached an average home sales price of $465,000.
To learn more about North River Ranch and its premier builders, visit here.  For more information on Neal Land & Neighborhoods, including the company's latest development news, visit www.NealLand.com.
About Neal Land & Neighborhoods
Neal Land & Neighborhoods is a Manatee and Sarasota, Florida-based community and master land planning and development organization led by John A. Neal. The company incorporates smart master-planning and public infrastructure solutions to create the next level of elite community planning in Southwest Florida. By working with carefully selected new home builders, Neal Land & Neighborhoods aims to establish thriving, sustainable, livable, and ecologically sensitive communities throughout Manatee, Sarasota, and Hillsborough counties. Neal Land & Neighborhoods currently owns or controls several thousand acres of land entitled for more than 9,000 future residential homes and the supporting mixed-use commercial and retail. For additional information, visit www.nealland.com.