PARRISH, FL (March 10, 2023) – A ribbon-cutting ceremony was held this morning, March 10, to mark the official opening of the Fort Hamer Road extension from U.S. 301 to Moccasin Wallow Road. The road extension serves to improve commute time and business, school and residential access in the region. Local land developer Neal Land & Neighborhoods designed and built the 3.65-mile extension project in a public-private partnership with Manatee County. The ceremony was held at the entry of North River Ranch – the award-winning, master-planned community developed by Neal Land & Neighborhoods.
John A. Neal, president of Neal Land & Neighborhoods, shared a keynote speech regarding the project milestones, economic development, and the value of public-private partnerships. The Honorable Kevin Van Ostenbridge, Chairman for Manatee County Board of County Commissioners, shared remarks about the cost savings benefit to the public and the economic opportunities the improved road network provides for the county. Over 30 key members of the community and project representatives gathered at the ceremony, including those from Manatee County, Woodruff & Sons, HCA Healthcare, Parrish Fire Department, and Stantec.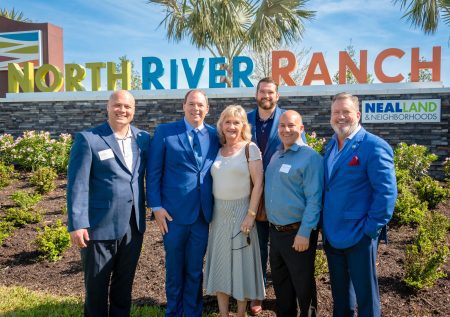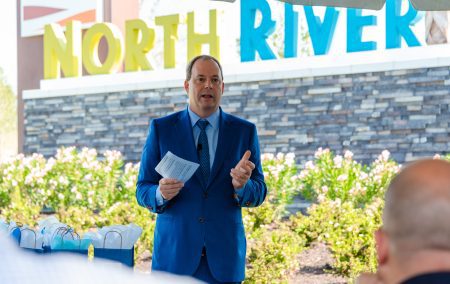 "The extension of Fort Hamer Road is a vital integration to the road network of our community, and it helps stimulate economic development and connectivity in our region that current and future residents will benefit from," said Neal. "It will facilitate access to the new hospital, shopping village and schools at North River Ranch and enhance access to Hillsborough County and the surrounding areas without getting on the interstate. The improved commute for travelers needing an alternative route in connection to I-75 or U.S. 301 will also bring an immediate positive impact to our community."
The extension offers a four-lane roadway with turn lanes, bike lanes and sidewalks.
"I want to thank our building partners and all those at Manatee County who contributed to making this project a success," adds Neal. "Our approach to designing new communities includes the improvement of public infrastructures because we understand the impact it has on the sustainability and value of a community. Our guiding principle is to make every decision with the community's future in mind."
To learn more about North River Ranch, visit www.northriverranch.com.
About Neal Land & Neighborhoods
Neal Land & Neighborhoods is a Florida-based community and land development organization led by John A. Neal. The company incorporates thoughtful master planning and public infrastructure solutions to create the next level of elite community planning in Southwest Florida. By working with carefully selected new home builders, Neal Land & Neighborhoods aims to establish thriving, sustainable, livable, and ecologically sensitive communities throughout Manatee, Sarasota, and Hillsborough counties. Neal Land & Neighborhoods owns or controls several thousand acres of land entitled for more than 9,000 future residential homes and the supporting mixed-use commercial and retail.