PARRISH, Fla. (Sept. 16, 2022) – Neal Land & Neighborhoods is pleased to announce that Publix will anchor the grocery plaza for North River Ranch's Market Walk, the community's first major commercial retail development. Market Walk at North River Ranch will provide walkable and bikeable access to shopping and retail to residents of North River Ranch, the award-winning, master-planned community of Neal Land & Neighborhoods, as well as the surrounding areas.
Located at 11635 Moccasin Wallow Rd., Publix will feature 48,387 square feet with a separate liquor store and a drive-through pharmacy window, bringing the total to 50,487 square feet. The food retailer will break ground soon and will be followed quickly by a selection of additional tenants, to be announced soon, who will bring diversified services to Market Walk.  
"This is an exciting and awaited milestone for the community as we make significant progress on bringing this central shopping hub to fruition in 2023," said John A. Neal, president of Neal Land & Neighborhoods. "We've designed North River Ranch's trail system to interconnect and extend convenient access to Market Walk and the future Village Center – we will also see increased use of the community's bike share program. The community's residents are very much looking forward to having access to these new services and amenities at walking and biking distance from their homes."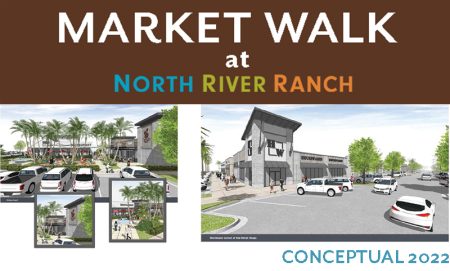 Unlike typical inline retail design, the Publix at Market Walk will be a free-standing store with an open courtyard design and other free-standing retailers on the surrounding parcels. The thoughtful design and integration of sidewalks and outdoor seating areas, plus access to North River Ranch's Bike Share, will encourage pedestrian use.   
"Our goal is to redefine the standard of living in North Manatee County by bringing together modern living, accessibility, and hometown warmth through this master-planned community. Market Walk at North River Ranch is another step towards completing an amenity-rich community unlike any other in the market today, and it further establishes this community as the best new destination in North Manatee County," adds Neal.
For more information on Neal Land & Neighborhoods, including the company's latest development news, visit www.NealLand.com. To learn more about North River Ranch, visit https://northriverranch.com/
About Neal Land & Neighborhoods
Neal Land & Neighborhoods is a Manatee and Sarasota, Florida-based community and master land planning and development organization led by John A. Neal. The company incorporates smart master-planning and public infrastructure solutions to create the next level of elite community planning in Southwest Florida. By working with carefully selected new home builders, Neal Land & Neighborhoods aims to establish thriving, sustainable, livable, and ecologically sensitive communities throughout Manatee, Sarasota, and Hillsborough counties. Neal Land & Neighborhoods currently owns or controls several thousand acres of land entitled for more than 9,000 future residential homes and the supporting mixed-use commercial and retail. For additional information, visit www.nealland.com.
# # #